Uranium Energy Corp.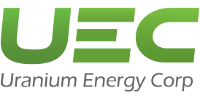 Uranium Energy Corp (FRA: U6Z / NYSE American: UEC) is a uranium mining and exploration company based in the United States. As a leading U.S. uranium company, UEC is advancing the next generation of low-cost, environmentally friendly in situ recovery (ISR) uranium projects.
In South Texas, the company's "hub-and-spoke" operations are anchored by our fully permitted Hobson processing plant, which plays a central role in our Palangana, Burke Hollow, Goliad and other ISR projects. In Wyoming, UEC controls the Reno Creek Project, the largest permitted ISR uranium project in the U.S., which is in the pre-construction phase.