Gran Colombia Gold Corp.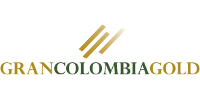 Gran Colombia Gold is a mid-tier gold producer with a proven track record of building and operating mines in Latin America. In Colombia, the Company is currently the largest underground gold and silver producer with multiple mines at its high-grade Segovia operation. In Guyana, the Company is advancing the Toroparu project, one of the largest undeveloped gold projects in the Americas.
Over 6 million ounces of gold have been produced from the Colombian Segovia area in the last 150 years. In the last 10 years, under Gran Colombia operations, Segovia has produced over 1.3 million ounces of gold at an average grade of 13.8 grams of gold per ton and in 2020 could produce 196,000 ounces of gold at an average grade of 14.5 grams of gold per ton. This places the deposit among the top 5 highest grade underground gold mines in the world.