Heraeus Metals Germany GmbH & Co. KG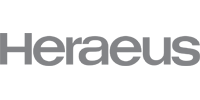 About heraeus-gold.de
How do you choose a good precious metal dealer? Experience? Expertise? Reliability? Probably a mix of all three. It's good to rely on someone who combines all of these values. Heraeus-gold.de is a cooperation between the precious metals and technology group Heraeus and the bank-independent precious metals trader Ophirum. As a customer you benefit from the bundled expertise in precious metals processing and trading, while ordering bars and coins in premium quality from the comfort of your own home.
About Heraeus
With a tradition of more than 165 years, Heraeus is very well versed in precious metals. After all, this is how it all began - with the pharmacist and chemist Wilhelm Carl Heraeus, who developed a process for melting platinum on large scale. What has developed out of this? Today, Heraeus is one of the leading providers of precious metal services and products, in addition to being established in business areas such as health, environment, electronics and industrial applications. With the acquisition of Argor-Heraeus in 2017, Heraeus not only further expanded its expertise and capacities in gold and silver, but also positioned itself as one of the world's largest industrial precious metals service providers.
About Ophirum
Ophirum is a long-standing distribution partner for Heraeus precious metal bars and a proven, bank-independent provider of investment products in the precious metals sector. As the contractual partner and operator of the online shop, Ophirum takes care of the order and logistics processes of heraeus-gold.de. In addition, customers have the possibility to pick up their ordered bars or coins in various Ophirum stores, spread across Germany.
Barrenflyer
Broschüre heraeus-gold.de