EMX Royalty Corp.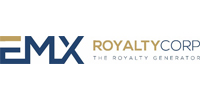 The Company has annual cash flow from royalties generated through organic growth and value-based acquisitions. The implementation of the royalty generation business model supports global exploration programs for precious metals and base metals that have resulted in further expansion of an already substantial royalty portfolio.
The Company has exploration and royalty assets in the U.S., Canada, Turkey, Scandinavia, Serbia, Haiti, Chile and the Australia-Asia-Pacific region. EMX Royalty Corp. is the largest exploration royalty holder in Norway and the second largest in Sweden. Ongoing cash flow comes from producing royalties, royalty prepayments, so-called milestone payments, management fees and annual project payments.
After 18 active years, EMX was able to limit the number of shares to only about 100 million shares (fully diluted, no roll backs).